Tonight our family was involved in a potentially serious car accident. All five of us were coming home in very snowy weather in a taxi. As the driver tried to execute a left turn across traffic, he lost traction in the snow, and we were broadsided by an oncoming vehicle.
As you can see from the image above, the other car hit us just behind the rear passenger door where Kelsie was sitting with Hosanna in her lap. I was in the front passenger seat, and Beka and Abby were in the back with Kelsie.
Our car spun around and came to rest next to the opposite curb. I suffered a very minor head bang on the ceiling, but Kelsie hit her head pretty hard on the window. The kids were  terrified and crying, but otherwise unhurt. As soon as I could do so safely, I got everyone out of the car to check for injuries. It was snowing heavily. After a quick inspection, it appeared that everyone was OK. Kels will no doubt have a nice goose egg to show for the evening, but other than that we are all safe.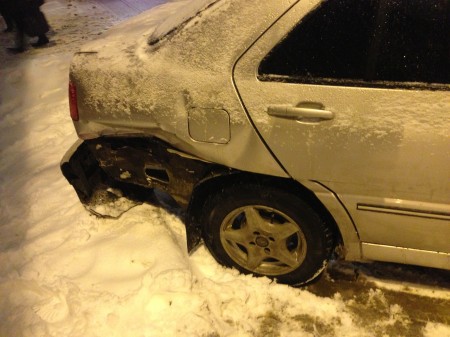 Meanwhile, a nearby tram was stopped because our car was blocking the tracks. In Ukraine, it is illegal to move any vehicle involved in accident until the police have arrived. The tram had emptied of passengers and the driver, seeing that we were standing in the snow with the children, came over and invited us into her warm tram! She was a very nice lady, and the kids had a great time sitting up in the driver's seat.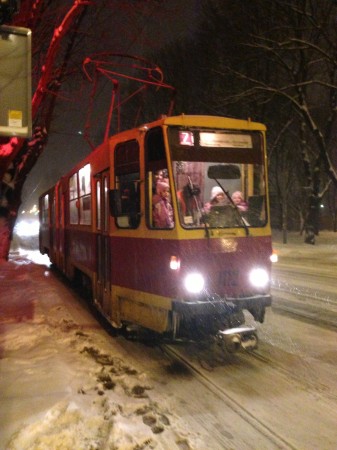 After a while, the taxi company sent another car to pick us up and soon we were home. We're a bit shaken up but very grateful for God's protection. Thank you again to all of you who keep our family covered in prayer. It certainly counted tonight.
"I will say of the LORD, He is my refuge and my fortress: My God; in him will I trust." (Psalm 91:2)
---
Like what you're reading? Let's keep in touch!